hi hi. i thought i'd post a bit of a random update here trying to keep livejournal alive. i am sitting right now on a couch at ian's brother, colin's house that he shares with his girlfriend, maimbo. they live in port hedland which is up top toward the northern part of western australia. port hedland is mining country and colin and maimbo are lawyers who work on aboriginal land rights stuff in regards to using the land for mines.

oh, here's a map of australia that has hedland listed along with some of the other places we've been.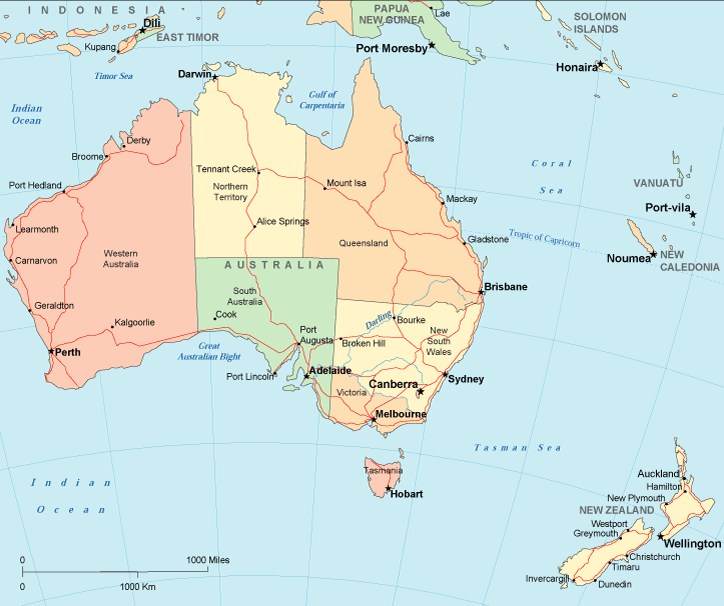 so, down in that left-hand corner is perth and we have mostly been in and around perth (and margaret river, which is a 4 hour drive south of perth). just as an fyi, the state of western australia covers about a third of australia and so it would cover an area almost as big as 1/3 of the usa as well. you can see port hedland about halfway up the coast.

anyhow, we have been pretty immersed in family stuff. ian's dad got married and his sister had some intense things going on that we were happy to be around to support her through. it was also our first trip to australia since ian's stepdad passed away a couple of years ago and his mom has since moved to a new town, so it has been really good spending time with her there. and we hadn't seen colin in almost 2 years or met his girlfriend yet! once we get back to perth we'll be staying with claudia, ian's sister, and trying to spend the week doing some long overdue friend catch-up.

anywho back to the now...so our plan was to spend 2 weeks in the kimberley with colin and maimbo and then have a week on our own in the pilbara. the kimberley is further north and is tropical in climate and the pilbara is the region that port hedland is a part of - more of a desert region.

ok, so we flew into broome and colin and maimbo met us there and we spent 2 nights in town. went to see iron man 2 which was exciting for colin and maimbo since port hedland doesn't have a movie theater! had some good food and relaxed some. then we headed off to cape levique. ian's parents were relief lighthouse keepers there for a month or so in the 70s, so the guys were excited to see it. we camped and generally had a great time. it's beautiful country. then we set off for derby (you can see it on the map above) which was about an 8 hour drive. it was a little rainy so we got a hotel room for the next 2 nights and mostly just hung out in the shitty little town. we saw nearby sites and were waiting out the rain. it seemed like it was going to clear up a bit so we headed further into the kimberley. rain rain rain rain rain. it was a lot of rain. we got stuck on a dirt road that closed on either end when we were halfway through and spent hours driving through mud sloshing and slipping all around. it was adventurous but actually a little bit scary...we didn't want to get stuck. anyhow, when we saw, after another night in an expensive but extra-crappy hotel, that the rain didn't seem to be letting up, we decided to escape the kimberley and head back to the deserts of the pilbara. it is supposed to be the dry season in the kimberley, and all of this rain was really unexpected and out of season.

oh yeah! also we saw freshies (freshwater crocodiles - not nearly so scary as salties, which we didn't see) and a king brown snake (poison meanie).

anyhow, we had a very very long day of driving back to port hedland and rested and regrouped for a day or so before heading to the amazing amazing ningaloo reef where we spent two nights in one town and one night in another town. ian and i went on a whale shark snorkeling trip that was incredible. whale sharks are sharks, not whales, and are the biggest fish in the world! they are completely harmless and eat plankton, similar to whales (hence their name). beautiful creatures and it was incredible to swim right next to them. we ordered a dvd and if there's a way to post some clips or images, i'll do that once we receive it. but for now, this is what they look like:



the ones we hung out with were between 4 and 5 meters (that's like 13-16 feet).

anyhow, so we did that. we also did some snorkeling along the shore and in coral bay did a glass bottom boat trip with an hour guided snorkel where we got to swim with turtles who were so adorable! we also saw some sting rays, a shark, and a bunch of amazing fishies. i used to hate snorkeling but i'm loving it more and more. here i am with my turtle buddy!



ok, so yeah. now we're in port hedland and tomorrow ian and i will take off and head to karijini national park where we'll camp and hike and see more pretty things and do more swimming. we'll be there for 5 days. then back to hedland to fly back down to perth on the 31st.

so, that's the current "where in the world are sharon and ian..." update. we have just over 7 weeks left of our 14 month journey. seven weeks should seem like a good long time, but it really feels like we're winding down. we have a few more weeks in australia (1 week here, 1.5 weeks in perth/margaret river, 1 week in melbourne, 1 week driving btw sydney and melbourne, and half a week in sydney) and a couple of weeks in new zealand (mostly in auckland but with an exciting welington visit to
carolinenow). then back to san francisco. ian has a job lined up and we have a place to stay for our first 3 weeks back in town. we're hoping to have an apartment to move into by then. i'm hoping to get all my friends and acquaintances with babies and kids to let me babysit on occasion so i can make some money while figuring out job stuff for myself. and in the meantime i'm just enjoying this time of relaxation and visiting.

savoring our last adventures on the road and preparing for our new adventures at home. and that's the that for the me for now.